›
›
›
›
WJ rebrands and invests as UK government pledges greater road funding
WJ rebrands and invests as UK government pledges greater road funding
First published in The Global Road Safety Review 2015 as WJ rebrands as UK government invests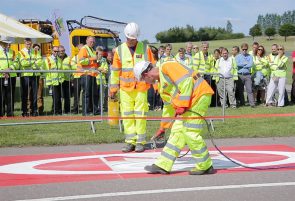 Specialist UK road marking group WJ said it consolidated business earlier this year with a new brand being set up in February
All its regional businesses are now found under the one single brand of WJ. The renamed group companies are WJ North operating from the towns of Stoke and Elland.
Meanwhile, WJ South operates from the towns of Milton Keynes and London. WJ South West is based in the southwest England town of Taunton and WJ Products is run from Milton Keynes.
Wayne Johnston, group managing director of WJ, said the company continues to invest heavily in new plant, equipment and training. "Even through the tough periods of austerity, we spent over €14.5 million in the past three years with a further €4.8 million committed this year as we focus on our means to keep up with client demand.
"As a part of our strategy we have added WJ Engineering to our portfolio with a new facility in Stoke to manufacture the ancillary equipment required for our specialised road marking vehicle plant in Elland," said Johnston.
WJ acted in response to last December's Department of Transport announcement of nearly €21 billion for road upgrades – the largest increase in more than a generation – to be spent by the end of the decade. The government said it is investing in more than 100 new road schemes. More than 2,100 new lane kilometres will be added by schemes being delivered on motorways and trunk roads. This includes €2.1 billion of investment to add an extra lane onto key motorways to turn them into smart motorways, boosting connectivity between London, Birmingham, Manchester and Yorkshire.
However, safety of the workforce is fundamental to managing any company's increased volume of work, he said. "We recently upgraded our personal protective equipment [lineup], including innovative dual-technology, combining retroreflectivity and photo luminescence.
Retroreflective tape returns light to its source while photo luminescence crystals absorb UV energy emitted as a light source in low light or zero-light conditions."
He said the innovation delivers an extra layer of visibility to a high-visibility garment, giving the wearer three levels of protection – fluorescence, reflectivity and phosphorescence.
Companies in this article