Digital and Online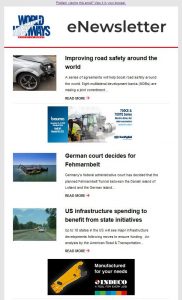 Route One Publishing recognises that our readers like to receive information in a variety of formats – including print publications, eNewsletters and online resources. These different formats also offer multiple opportunities for our advertisers to present their products and services to a targeted audience of opted-in construction, transportation and aggregates professionals.
eNewsletters
Every two weeks, each magazine delivers an eNewsletter to its subscriber base, providing the latest industry news, analysis, new product announcements and details of upcoming events. Each eNewsletter includes a selection of advertising options to enable advertisers to present products and services directly to this vitally important audience of industry professionals.
To discuss your specific requirements please email media@ropl.com or click on one of the brands below to reach a truly global audience:
Websites
Bringing you the very latest in website functionality Route One Publishing's core magazines have dedicated websites, eNewsletters and a highly experienced editorial team behind them. Providing the latest industry news, features, new product announcements and upcoming events, there is also a wide-ranging and searchable archive of past industry news. The content has been divided into industry categories making it easy for you to select only that information that is relevant to your area of expertise or interest.
With website traffic increasing year on year, driven by the news and feature links on the Newsletters, the websites provide several digital advertising packages for advertisers to present their company, products and services. The packages suit all budgets and requirements, to discuss your specific requirements please contact the Sales Directors, on any of the following:
World Highways:
Email: GMcqueen@ropl.com
Telephone (direct): +44 1322 612069
ITS International:
Email: demmerson@ropl.com
Telelephone (direct): +44 1322 612068
Aggregates Business:
Email: pwoodgate@ropl.com
Telephone (direct): +44 1322 612067
To take a look at the range of digital packages we offer advertisers please take a look at our media packs by selecting a link below.