›
›
›
›
Wabco's emergency truck braking system works in all weathers
Wabco's emergency truck braking system works in all weathers
First published in The Global Road Safety Review 2015 as Emergency braking in all weathers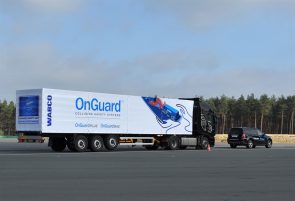 Truck safety technology supplier Wabco has introduced an advanced emergency braking system (AEBS) for trucks and buses that detects moving, stopping and stationary vehicles ahead.
OnGuardACTIVE utilises a powerful 77GHz radar sensor that maintains the system's high performance in all weather conditions.
OnGuardACTIVE is capable of analysing the traffic ahead, thus recognising impending critical driving situations early. The system autonomously applies the brakes and can bring the vehicle to a complete stop, helping to prevent or mitigate rear-end collisions.
Companies in this article