›
›
›
›
UDT Instruments gets SMART with 7th generation Laserlux G7
UDT Instruments gets SMART with 7th generation Laserlux G7
First published in The Global Road Safety Review 2015 as UDT Instruments gets SMART with 7th generation Laserlux G7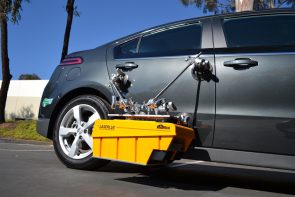 RoadVista has unveiled its 7th generation reflectometer, the Laserlux G7, that features night-time colour measurement.
RoadVista claims this is the first mobile retroreflectometer with the capability to determine if white and yellow stripes fall within the designated ASTM or CEN night-time colour boxes. The unit was unveiled at the Traffex exhibition in Birmingham, UK last month, and when it becomes widely available this summer it will supersede the Laserlux CEN 30.
The Laserlux G7 uses SMART – Simple Measurement Acquisition for Retroreflective Technology – for retroreflectivity readings at highway speeds. It quickly and securely mounts to almost any vehicle by way of a cinema-grade, four-leg mount with vacuum cups and safety strap.
Self-aligning and calibrating measurement is via automatic motorised height adjustment and levelling, all from the power of a standard 12V power outlet. As standard features it measures the coefficient of retroreflection of pavement markings in the CEN 30-meter geometry and records this 400 times per second to ensure continuous coverage of the lines.
The G7 is also compatible with Android, iOS, and Windows tablets and computers. There is wireless video camera with streaming overlay recorded and synced to the data stream. Data is conveniently stored in a removable USB flash drive so there is no hanging around to download data at the end of the day. It's all there on the flash drive ready to plug into any computer.
The unit will count and record raised retroreflective pavement markers (RRPMs). Calibration is fast, accurate and completely self-contained with no need to measure distances or find level ground. It also measures and records the width of the stripe.
RoadVista said a future refinement to the Laserlux G7 will be the ability to measure and record skip line lengths and spacing.
Companies in this article