›
›
›
›
Tourist Gateway signage from Rennicks shows the way
Tourist Gateway signage from Rennicks shows the way
First published in The Global Road Safety Review 2015 as Tourist Gateway signage shows the way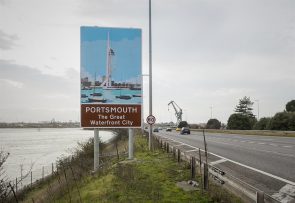 Local authorities increasingly are using innovative signage featuring a colour illustration of an iconic landmark in a bid to help their region attract visitors
Informative and colourful Tourist Gateway signs, from signage business Rennicks, are now seen along routes around the southern UK city of Portsmouth, as well as in southwest England close to Bath.
Instead of traditional plain text on a road sign the new 5m-high signs around Portsmouth feature an attractive image of the city's Spinnaker Tower. The signs are located on the south-bound M275 leading into the city.
A full colour image is printed directly on to the surface of Rennicks' Nikkalite retroreflective sheeting to produce a sign which is then authorised by the UK's Department for Transport for use on roads.
The signs are CE marked to EN12899-1:2007 to comply with horizontal structure requirements and visual characteristics for the traffic colours.
Simon Moon, head of transport and environment at Portsmouth City Council, said Portsmouth as a waterfront city deserves a gateway that does it justice. "When we saw the opportunity to have something more than just plain text, we knew it was a great chance to give people a taste of what the city is about," he said. "They'll act as a new gateway to the city and link in with the regeneration of the Tipner and Horsea Island areas."
The Gateway signs first appeared in Plymouth last year thanks to digital printing technology created by Rennicks UK in conjunction with a small number of sign makers who have the necessary equipment in place.
David Skinner, of Rennicks, said that the project created a buzz of interest. "Several towns and cities are now on board and there are others already in the pipeline," he said. "Our technology has opened the door for new development of traffic signs and that could inspire others to use the process to suit their own needs."
Skinner also welcomed news that the Gateway signs will feature in the UK's new Traffic Signs Regulation and General Directions (TSRGD) 2015 guidance.
"Authorities must win approval for each project at the moment, but the signs have been included in a draft update for official TSRGD regulations, due to be launched later this year. Councils will have formal guidelines and, effectively, a green light from the Government to install the new signs."
Rennicks UK is part of the Rennicks Group, with its head office in Dublin. Rennicks sister company MTS UK is a supplier of portable Variable Message Signs and intelligent traffic management systems.