›
›
›
›
Sernis lights the way with road studs for harsh conditions
Sernis lights the way with road studs for harsh conditions
First published in The Global Road Safety Review 2016 as Sernis studs defy snowploughs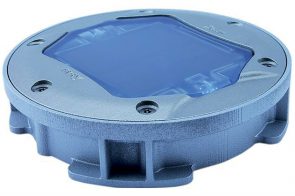 Portuguese manufacturer Sernis has introduced the SR-40, a reflective road stud that works in harsh conditions and is snowplough-resistant. Its design includes a solar panel of less than 1W in power, making it suitable for countries with low sun exposure.
The stud also has RF low power 868MHz mesh network communication and microcontroller technology inside. Features include a wake up and sleep function, automatic brightness control and night-level contraction. The stainless steel, aluminium and polycarbonate body houses two uni-directional LEDs and four bi-directional LEDS.
To complement the SR-40, Sernis has produced the inductive power SR-45 IPW, which the company says it is suitable for use in roads, tunnels, parks and airports. Installation is made easier via the plug-and-light concept, while a non-wired connection reduces the need for drilling and deterioration of the road in future roadworks. All road studs are connected to the Central Control Unit. The 3kg SR-45 IPW uses 230 volts AC and its 8 LEDs consume 5 Watts of power.
Companies in this article