›
›
›
›
Road Zipper makes the move on the Golden Gate Bridge
Road Zipper makes the move on the Golden Gate Bridge
First published in The Global Road Safety Review 2015 as The Moveable Barrier's time has arrived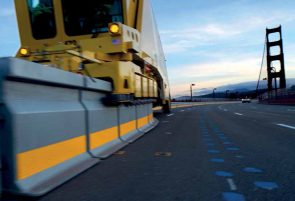 System provides congestion relief, safety and substantial savings
Ewa Bauer had made the trip across the Golden Gate Bridge countless times. Still, January 12 was a special day. Over the weekend workers installed the San Francisco, California, bridge's moveable barriers. As the chief engineer for the Golden Gate Bridge Highway and Transportation District, Bauer's fingerprints were all over the project.
The installation had gone better than she could have hoped – it had been completed eight hours ahead of schedule – but that was a short-term victory. The real test, the one with lasting impact, would be the bridge crossing. Her anxiety vanished as she started to cross. And it lessened every second of the drive. The barriers were a success. They were a natural fit. She knew it immediately.
"I could not imagine, as I drove, that those little pylons had ever been used," Bauer said. "It seemed like the barriers had always been there. They fit." Other commuters shared similar experiences: They felt the barriers were natural additions and asked, "Why didn't we do this earlier?"
Many Uses – and Benefits
Transportation experts say the Road Zipper System is officially coming of age, and the Golden Gate Bridge project is just the most recent example.
The uses are growing, too. What started as a tool to make bridges safer has evolved into a traffic management system to relieve rush-hour congestion.
Then there is the newest development: Transportation planners are using the barriers to dramatically reduce the scope of road projects – and to save hundreds of millions of dollars.
"Acceptance and utilisation are increasing," said Martin Leak, a consultant and expert on transportation systems, including the moveable barriers. "I think a transformation is under way. There are lots of areas where you can't build your way out of problems. The Road Zipper System is a solution – often the only solution."
The Golden Gate Bridge Project
Lane management wasn't a new concept for the Golden Gate Bridge. Several times each day workers moved plastic delineators to break the six lanes into a 4-2 configuration. The delineators did expedite traffic flow but they offered little protection and even less comfort.
"It was an honour system, where you had to say, 'I trust that other people will follow this dividing line,'" Bauer said.
While the bridge hadn't seen a fatality in years, there were crashes and they often spilled into other lanes. The only salvation, if there was one, was that fear had led many uncomfortable motorists to lower their speeds as they crossed the bridge. The consensus was that the bridge needed safety improvements. The challenge was how to do it, particularly since the bridge couldn't be widened.
Moveable barriers seemed to be out of the question. The Road Zipper System provided by Lindsay Transportation Solutions, the parent of Barrier Systems that makes the unit, utilised barriers that took up 18 inches (45.72cm) of lane. Golden Gate lanes were reduced from 12 feet to 10 feet (3.65m to 3.04m) during work completed years earlier. Losing another 9 inches (22.86cm) in each lane was too much for the transportation officials.
"We were very worried about the lane widths," Bauer said. "There's a huge difference between a 12-foot-wide lane and a 10-footwide lane. Then to take out more …"
Lindsay began to work with the Golden Gate officials to develop a 12-inch (30.48cm) moveable barrier, which would only take 6 inches (15.24cm) from each lane.
The barriers are made of high-density concrete covered with steel jackets. The weight of the concrete keeps the barriers in place, while the reactive tension hingeing system keeps deflection to a minimum.
"The barrier in a way is flexible if it's hit, but the entire length of the barriers holds the section in place," Bauer said. Engineers tested the 12-inch barrier's deflection – basically, how much impact it can absorb and how far into an adjacent lane a vehicle bounces – and U.S. regulators approved the system.
The development and approval process had taken years, but the bridge finally had what it needed.
The Installation
Planning was thorough and communication to the public frequent. The Golden Gate closed Friday at midnight and the barrier installation began.
"The installation was perfect," Bauer said. "We put a lot of effort into the planning and staging."
The work was actually finished eight hours early, well in advance of Monday morning's reopening. "It was a great accomplishment," Bauer said. "Everyone felt really good about it."
But the real test remained. How would the barriers and the narrower lanes work? That was Bauer's biggest worry. The answer came that first morning.
The bridge reopened to rave reviews from commuters, who actually felt as if the lanes had been widened. Bauer was one of them, even though she knew space had been lost.
"The barriers give the impression that the roadway is wider because you no longer worry about the opposite-direction traffic driving next to you," she said. "There is a separation. There is a very strong psychological feeling with the barriers."
The Road Zipper machine moves the barriers several times daily and doing so is a simple, quick and safe process, Bauer said. "We love this system," she said.
Interstate 15
If the barriers work well on bridges – the Golden Gate Bridge is only one of many examples – why can't they help relieve congestion on highways?
Caltrans has discovered they can. Officials at Caltrans, California's transportation department, looked at congestion relief options for Interstate 15 in San Diego in the late 1980s. At the time many factors came together, including increased use of high-occupancy vehicle lanes and federal funding for Intelligent Transportation Systems.
Many governmental agencies, engineers and planners were involved in the I-15 review. All could see the same pattern, and it wasn't particularly surprising: heavy traffic in one direction and light traffic in another. A few hours later, the flow was just the opposite.
Making the observation wasn't particularly difficult, nor was the agreement on a broad plan. "At that time we looked at more flexibility," said Edward Cartagena, media information officer at Caltrans. But how could Caltrans get that flexibility? The decision was made to utilise moveable barriers to create a flexible four-lane highway in the middle of the interstate. Crews placed the first section of barriers in 2008, just as the recession hit and the traffic slowed.
"The traffic demand at that time wasn't as anticipated," Cartagena said. Caltrans held off on making daily adjustments. But the economy and traffic volumes have now recovered and daily adjustments will begin on I-15 in the next few months.
Caltrans is confident the system will work on a daily basis. The barriers have shown good results when called on to ease congestion during traffic accidents and extended holiday weekends.
The nearby Coronado Bridge offers more evidence that the daily changes will provide good results. "That bridge has a very similar system, and it moves two times daily," Cartagena said. "It works well and has been there since the early '90s."
One Less Lane in Spain
Leak believes the next big step will be implementing the barrier system into road planning – and saving millions of dollars in the process.
Road planners in Spain are among the early adopters. The targeted 20km (12½ miles) stretch of C-16 between Berga and Bagá is mountainous and curvy. Traffic volume is low during the week, but on winter ski weekends the large number of vehicles can bring it to a standstill.
"A classic dual carriageway had been planned, but the cost was very high – over €700 million (US$786 million) for 20km (12½ miles)," said Albert Bové Chic, civil engineer in the Civil Works Project Management Department in Barcelona, Spain.
It was a hefty price for four lanes that often would see light traffic in both directions. "The cost was too high for the government, and we started looking for economical alternatives," Chic said.
Planners believed the best idea was to build three total lanes, and make one reversible. During the initial discussion they didn't know about the moveable barriers, so they considered options such as managing the central lane with traffic lights. Yet that didn't solve the biggest problem.
"There was a lot of concern with road safety, because the existing road is quite curvy and the accident rate is relatively high – with many frontal crashes in curves," Chic said. "A central managed lane without physical separation between oncoming traffic wouldn't help safety at all."
After researching all options the planners became convinced the barriers would solve the safety issue. The cost savings proved astonishing, too.
"The budget for a third reversible central lane managed with a moveable barrier from Berga to Bagá is about €100 million (US$112.3 million), including all the site work," Chic said, a €600 million (US$673.8 million) saving over the original proposal.
The Future of Existing Roadways
Lindsay Transportation officials see their products as ways to provide value to taxpayers when new roads are built – and also when trying to make the most of what is already there.
"Managed lanes can be implemented in all different types of conditions," said Chris Sanders, senior vice president at Lindsay. "It's not just bridges or flat surfaces. If you have situations where there are different grade levels, you can still manage the highway through the use of cross-overs and contraflows."
There are many solutions to existing congestion issues. As an example Sanders offers Interstate 30 in Dallas, a "contraflow" road (See graphic on page 4) that crosses a median to borrow a lane of traffic. "It's a solution that was created long after the road was built," he said.
Improved Planning, Too
Factoring moveable barriers into planning for new construction won't always eliminate the need for an entire lane, as was the case in Spain. But the barriers can provide significant flexibility – and value – when considered from the beginning of a project. "Traffic planning is very complicated,"
Sanders said. "You're trying to look years ahead, and it can be difficult to forecast with accuracy. You can't always anticipate a new stadium, or where event traffic will become heavy, or which suburbs will grow and what industries will emerge."
The key is building in flexibility. "A low upfront cost gives you higher flexibility for decades," he said.
Benefits of the Road Zipper System include:
Eliminates cross-over accidents and fatalities by providing positive protection from oncoming traffic.
Only 10-20% of the cost of adding a new lane.
Improves commuter travel times and fuel efficiency.
Adapts easily to changing traffic patterns and commuter needs.
Operates in all weather conditions.
Reusable and easily moves from project to project.
Reduces air pollutants.
Speeds implementation compared to new construction.
Road builders who prefer permanent barriers can still have flexibility. "You can put down our concrete moveable barriers and let them sit there, just as a permanent barrier would," Sanders said. "If you later change your mind, you can add the elements to move the barriers. You won't have to tear out your fixed barriers and other structures."
Moveable barriers are just one piece of the Intelligent Transportation System puzzle, Sanders said. "Just like ramp metering is turned on and off to adjust traffic flow, we're a piece that gets turned on to add an extra lane," he said. "We're an important tool in the managed-lane environment."
Existing customers around the world certainly think so. "They have chosen to invest in the newest Lindsay systems," Sanders said. "It's always a combination of safety and congestion management. Some of the systems are more than 25 years old. They are an integral part of those corridors and they're being reinvested in and maintained. They decided it's worth the money to reinvest in new and improved barriers and machines."
Funding
One challenge facing the moveable barrier systems is operational funding. The moveable barriers are much less costly than new construction, but they do require ongoing operating funds.
The budgeting process for operating funds can be very different for transportation departments, which typically build the road and then move onto other projects.
Large capital funds can actually be easier to obtain than smaller operating funds. "The question of who funds the ongoing operation can be an issue, even though it's much less costly to taxpayers," Sanders said. "Taxpayers who know about these systems want these systems."
Maybe the public will help make the changes happen. Leak, managing director of Auckland, New Zealand-based Resolve Group Ltd., has seen that happen before. He served as a consultant on a number of transportation projects that used the moveable barriers. He was also instrumental in the first moveable barrier project ever, on the Auckland Harbour Bridge in his hometown.
"The public pushed for the barriers," Leak said. "There were crashes and casualties and the public demanded something be done. That was 25 years ago. Since then we've never had a head-on collision." The public might speak up about spending as it did about safety. That collective voice can lead to change.
"The public essentially launched these moveable barrier projects," Leak said.
Saving Lives and Dollars
Officials from the Auckland Harbour Bridge recently upgraded their Road Zipper System, provided by Lindsay Transportation Solutions. There has not been a centre-line head-on collision on the bridge since Lindsay installed the first moveable barrier system at the end of 1990.
Auckland Harbour Bridge: Injuries from Centre-Line Head-On Collisions:
| Year | Fatal | Serious | Minor |
| --- | --- | --- | --- |
| 1987 | 4 | 2 | 2 |
| 1988 | 4 | 0 | 3 |
| 1989 | 6 | 5 | 11 |
| 1990 | 3 | 9 | 4 |
| 1991 | 0 | 0 | 0 |
The Transit New Zealand Project Evaluation Manual at the time assigned the following costs to head-on motor vehicle accidents:
Fatality – $ 2,946,000 each
Serious injury – $124,600 each
Minor injury – $22,000 each
These figures equated to an average annual cost saving of $8,720,900 by avoiding the collisions. Using this information, together with the capital, maintenance and operational costs associated with the system, a Benefit Cost Ratio of 8.30 was calculated over an evaluation period of 25 years and a 10% discount rate.
Source: Resolve Group Ltd.
Companies in this article