›
›
›
›
Camera system eliminates truck blind spots
Camera system eliminates truck blind spots
First published in The Global Road Safety Review 2015 as Vehicle safety technology protects other road users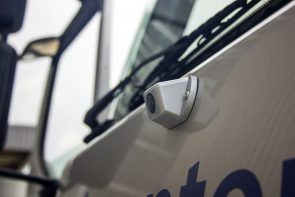 UK company Wincanton Records Management (WRM) is trialling innovative vehicle safety technology to protect vulnerable road users and prevent damage to their new shredding vehicle, using Brigade Electronics' Backeye360 Select fitted to the 18 tonne vehicle to provide the driver with a 'bird's-eye' view, eliminating blind spots and reducing collisions.
WRM's 18tonne paper shredder vehicle operates in difficult urban conditions including congestion; vehicles are in close proximity with pedestrians and cyclists all sharing the same road space.
Backeye360 Select is an intelligent camera monitor system designed to assist low speed manoeuvrability by providing a real-time surround view of a vehicle in a single image and allowing the driver to see any obstructions or vulnerable road users anywhere around the vehicle. Presenting all-round visibility in one image saves the driver having to process information from several mirrors or monitors in quick succession, making it easier to assess possible hazards.
Companies in this article
Brigade Electronics

Wincanton Records Management