›
›
›
›
Bluetrace traffic monitoring delivers real time information, aids congestion
Bluetrace traffic monitoring delivers real time information, aids congestion
First published in The Global Road Safety Review 2015 as Bluetooth traffic monitoring aids traffic safety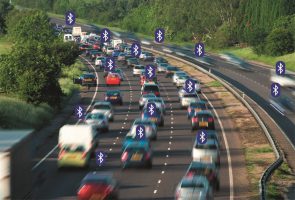 An innovative application is said to offer a more robust, flexible and far more cost-effective alternative to current journey time solutions and is claimed to be a significant leap forward in the battle to improve safety and reduce congestion.
Developed by Rennicks UK in conjunction with Bluetrace, the system uses Bluetooth and wi-fi technology to monitor and measure traffic movement from the roadside by connecting to devices inside vehicles.
The data is transmitted to a central location to present a clear, real-time picture of the road network and live messages can then be relayed on variable message signs to keep drivers informed. It means congestion and incidents can be identified quickly – improving safety and efficiency across the country and optimising traffic flow. The system, which can be combined with variable message signs, can also be used to improve safety and efficiency in roadwork zones. It will detect the presence and track the movement of highway workers and their vehicles, collecting, analysing and reporting non-personal data to give contractors and repair teams near real-time vision of their entire workforce.
Companies in this article