›
›
›
›
Tomorrow's roads: more RAP and lower temperatures
Tomorrow's roads: more RAP and lower temperatures
First published in Road Surface Technology 2015 as TOMORROW'S ROADS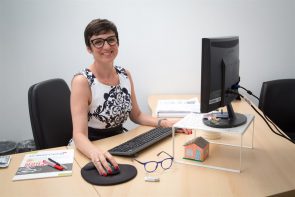 How will tomorrow's road surfaces differ from today's? Asphalt additive specialist Iterchimica shares its view of the future, with an insight into the technologies it is developing. By Kristina Smith.
When asked what the biggest change will be in road surfacing materials in the future, Loretta Venturini, technical director at Iterchimica, has no hesitation in answering. "The most important trend that we see is the use of more and more RAP".
All those parts of the world where there is second-generation paving – Europe, North America, the Middle East and parts of Asia – need to find ways to re-use recycled asphalt planings (RAP).  "It is good for the environment, and it also makes sense from an economic point of view," says Venturini. "Increasing the proportion of RAP used in a mix reduces the cost."
The proportion of RAP used varies from country-to-country. Some of the more environmentally conscious parts of Europe, such as Scandinavia, have specifications that encourage higher percentages of RAP, whereas other markets are more conservative.
In Iterchimica's home country of Italy, for instance, historic specifications limit the proportion of RAP used to 30 percent. New national specifications are under development which will see that figure rise and Iterchimica is working with city and regional road authorities to update local specifications and knowledge.
"Our studies show that it is possible to use 100 percent RAP, although we don't expect to reach those proportions just yet," says Venturini. "We are working with universities to demonstrate that high levels of performance are possible with high levels of RAP"
In order to increase the amount of RAP in a mix, a rejuvenator is needed, of which there are many types. One of Iterchmica's most recently launched products is a rejuvenator which has been designed to work with cold mixes and 100 percent RAP,  Iterlene ACF 1000 HP Green.
The development of the cold-mix rejuvenator reflects another trend which Venturini predicts will grow: the use of lower temperature mixes. Lowering the temperature at which asphalt is produced can bring a number of benefits, reducing production costs, lowering carbon emissions and creating a healthier working environment for those laying the roads.
In response to demands for lower temperature mixes, Iterchimica has developed additives Iterlow T and Iterlow RS. Iterlow T has been designed to lower temperatures (warm mix asphalt – WMA) of mixes containing virgin materials, whereas Iterlow RS works with mixes containing RAP.
Though widely used in the US and becoming more commonplace in some European countries, warm mix asphalt has yet to take hold in other parts of the world. The reason for this is largely down to economics: the savings made in fuel must be more than the cost of the additive required, so the price of fuel is a vital part of the equation.
The Trouble with Bitumen
One of the biggest challenges faced by road owners and constructors is the huge variation in the materials they are working with. Recent changes to the way that crude oil is processed have added another dimension to this challenge: bitumen now varies hugely in its quality and composition.
Significant price differentials between regions have also encouraged new dealers into the bitumen market, some of whom may not have specialist knowledge. Specifiers are more aware that every aspect of a surfacing mix – and the way they all combine – must come under scrutiny.
"There's a greater understanding that the final performance of a road is due to the elements used in a mix and especially the quality of the bitumen, and this is even truer when using high percentage of RAP" says Venturini.
Add to these challenges the need for lower maintenance costs, and it means that the need for additives has never been greater. "Our approach is to sit down with the client and design a mix with suits the specific situation," says Venturini.
For a highway project in Eastern Europe, for example, Iterchimica helped design two different mixes for the right- and left-hand lanes, corresponding to the different traffic loads in each lane.
"My view is that it's impossible to use additives to their full benefit without a laboratory study," says Venturini. "This is something we have always offered at Iterchimica and it's something that more and more clients are looking for."
Companies in this article