›
›
›
›
South America sales down but set to comeback
South America sales down but set to comeback
First published in Global Report: Construction Equipment 2016 as South America is feeling down but definitely not out
Despite the global recession, South America remains a major region for equipment sales, and likely will do overall in the next five years. David Arminas reports
Latin America – South America and Central America – is the fourth largest consumer and producer of construction machinery in the world, a situation expected to remain the same until at least 2020 (Tables 1 & 2). However, not every South American country will show a consistently upward growth curve for consumption of construction machinery.
According to analysts Euromonitor International, the slow performance of machinery for construction, mining and quarrying markets in the region will largely reflect the developments of its primary buyer – the construction industry (Table 3). For instance, Brazil is the economic powerhouse in South America, but its construction sector is expected to decline by 20% by 2020.
Overall, South America's construction machinery market will be challenged by political risks and currency depreciation in the next several years, notes Euromonitor. Rapid currency depreciation will result in increased costs for imported construction materials and equipment because imported machinery dominates the market (Table 4). As an evidence of harder times for South America's machinery market, sales for Caterpillar, a primary construction machinery supplier to all South American countries, have been declining monthly by 35% to 55% over 2015 in the region, says a Euromonitor analyst.
Another barometer of the South American sales market is the recent fortunes of Canada's Finning International. Finning is the world's biggest dealer of Caterpillar equipment Global revenue declined by 10% from Q3 2014 to nearly US$1.08 billion, driven by 30% lower new equipment sales due to a difficult economic environment and reduced demand for new equipment in all markets. Amid poor performance figures, last November Finning announced it is cutting its South American workforce by 550, making total cuts in the region to around 1,200 since 2013.
However, tougher financial times in the South American market won't necessarily mean that domestic buyers will opt for less expensive equipment, meaning that which is made in Asia including China. As Euromonitor noted, resale value and added value services for new equipment can swing the sale, despite tighter financial situations for many construction equipment buyers. A report by the Association of Equipment Manufacturers (AEM), based in the US state of Wisconsin, showed that Brazil was the fifth largest global importer of US-made construction equipment in the first half of 2014. Sales were $358.3 million, but this was a drop of 30% on the year.
Brazil imports only 18% of machinery from China, versus 34% from the United States. Mexico, although in Central America, imports only 5% from China and almost half of its construction machinery from the United States.
Construction equipment sales for Chile, the next largest importer of US-made equipment, were down 37% to around £300 million. Peru was the seventh, and it too saw sales fall, a dip of 15% to nearly $280 million.
So, while sales may slip back, there appears to remain a belief in higher quality machines that can pay dividends in the long-term. Also, the manufacturers can offer improved maintenance packages as part of value added services, creating better value for money spent.
Euromonitor notes that for one of the global construction machinery leaders, Japanese manufacturer Komatsu, the manufacturer's maintenance revenue is twice as big for Latin America, than in comparison with the sales in the rest of the world.
However, according to Komatsu, the selling of parts in Latin America is not significantly more important than in the rest of the world. While considering the importance of spare parts in intra-industry purchasing, the situation could be best illustrated by Brazil's example. In Brazil intra-industry trade accounts for only an insignificant share of purchases.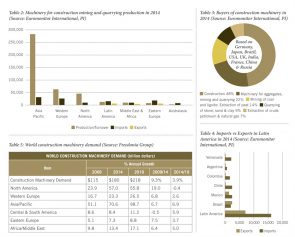 According to the London-based Economist Intelligence Unit, 2015 was the bottom of the slump for many important industrial and precious minerals, such as aluminium, tin, copper, zinc, lead, nickel and gold. All are expected to increase in price up to 2019 at least, notes the EIU.
More extraction activity means more money in the coffers of South American governments to pursue infrastructure projects. South America, with its large extraction sectors, could benefit from this, according to the report World Construction Equipment, from The Freedonia Group, a Cleveland-based industry research firm.
Globally, demand for construction machinery is forecast to advance 3.9% annually to 2019 to $218 billion, decelerating significantly from the pace between 2009-2014.
South America, as well as Central America, Asia/Pacific and Africa/Mideast regions are all expected to register above average gains thanks to continued spending on infrastructure projects, according to the Freedonia report.
However, more than two-thirds of all additional construction equipment demand generated between 2014 and 2019 will be attributable to China. In contrast, industrialised areas like North America and Western Europe will underperform in the next couple years, mostly due to strong sales in 2014, but sales could pick up as these countries recover from the global financial crisis and operators replace older machines.
As for South and Central America, new sales will come from investment in the mining sector, which will slowly recover from the sales declines registered between 2009 and 2014. According to Freedonia analyst Lee Steinbock, "Demand in the region had dropped largely due to declining sales in Brazil, which purchased a significant amount of new construction equipment in the intervening years in preparation for the 2014 FIFA World Cup and the 2016 Summer Olympics."
Demand for excavators and loaders is expected to advance at the fastest pace of any major construction machinery product segment through 2019. Sales of these products will be fueled by rising construction and surface mining activity. Increased infrastructure spending will help support advances for graders, mixers, pavers, rollers, and related equipment, while rising residential building construction spending, particularly in urban areas, will help drive new crane sales.
Although demand for dozers and off-highway trucks will expand at the slowest rate of any major product category through 2019 – in large part due to strong sales growth from 2009 to 2014 – increased surface mining activity will help support gains for these machines.
Companies in this article
Caterpillar

Komatsu

Freedonia Group