›
Global Construction Media Alliance (GCMA)
Global Construction Media Alliance (GCMA)
The Global Construction Media Alliance (GCMA) is a partnership between a number of leading publications around the world. This partnership provides readers with a balanced and international viewpoint, while allowing manufacturers and technology producers access to a number of quality publications.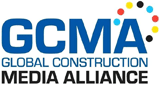 Through the GCMA, news and features content can be shared globally, increasing overall readership and visibility for projects and products alike.
Understandably, manufacturers want to see their products featured in the magazines that they advertise in, but they don't always have the answer to this question: 'What do the buyers of our equipment actually want to read about?' GCMA members' editors are award-winning industry writers with more than 110 editorial excellence awards to their names. They have a deep understanding of what their busy readers will and will not make time to read.
The bond of trust that exists between readers and editors is difficult to win and easy to lose. GCMA member magazine editors have worked hard over the years to ensure that this trust leads to a very high level of readership engagement and moreover, adverts that are seen.
GCMA members include:
To visit our industry partners' page, click here.