›
›
›
›
Seeing is believing: Video tells the true story of road markings
Seeing is believing: Video tells the true story of road markings
First published in The Global Road Safety Review 2015 as Video tells true story road markings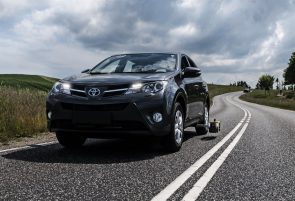 Road markings are an often underestimated tool in traffic safety and too often road authorities consider them to be a cost
This is even if properly performing markings and traffic signs are important aids in ensuring safe traffic flow, thus minimising the number of accidents and fatalities.
The increasing number of elderly people still driving well into their advancing years increases the need for properly performing markings. Slower reaction time and less light vision by this group of older citizens can be counter balanced by properly performing markings.
Especially at nighttime, markings and signs maybe the only guidance drivers have about the road layout ahead and so avoid potentially fatal accidents. The dangers increase many times over if there wet and rainy conditions persist at night.
DELTA, a global supplier of retroreflectometers, and Geveko, a producer of road markings – both scandinavian companies – have launched a 10-minute video that tells the story of markings. Learn about what markings are made of, what types of markings are used, what glass beads mean to reflection and retroreflection of light, how the performance of markings is measured and much more.
The video called "The story of road markings" can be viewed at the bottom of this page.
Lately, Geveko has been testing thermoplastic road markings with types of glass beads both as intermix, surface material and drop on beads. The test was performed in real life to get the right impression of how the thermoplastic markings perform with the various types of glass beads, when they are exposed to wear and tear from traffic and the changing weather conditions.
DELTA also recently launched a digital marking gauge to measure the thickness of road markings up to +/- 12.7mm when dry after application. The marking thickness gauge is simple to calibrate and use, making it a convenient instrument at hand for checking the thickness of a road marking, either when new markings have been applied or when having to decide on maintenance needs.
Companies in this article