›
›
›
›
Impact Recovery System's SlowStop moves into the fast lane
Impact Recovery System's SlowStop moves into the fast lane
First published in The Global Road Safety Review 2016 as SlowStop is on the rebound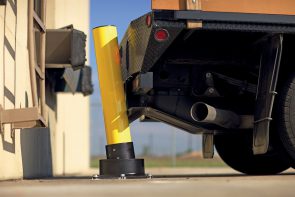 Invented by Belgian Geert Wolters, Impact Recovery Systems' SlowStop bollard, previously called SoftStop, is now available worldwide.
The basic sprung unit is a cast iron riser housing a large natural rubber ring, elastomer, into which a hollow steel bollard tube is inserted. Installation starts with the base's being screwed onto a concrete surface. No special securing tools are needed, or core drilling, and various preventative barrier formations can easily be configured.
The posts are able to bend 20 degrees from vertical as they progressively absorbs energy to soften the impact of the vehicle, which the company says makes the product also ideal for distribution centres and any areas where slow moving vehicles may come into contact with objects, such as warehouses and distribution centres.
Companies in this article